UC San Diego Housing Resources 2021
Click on the drop-down arrows below to learn more about UC San Diego's on/off-campus housing, as well as housing resources for enrolled undergraduate and graduate students.
Undergraduate On-Campus Resources:
Graduate / Family Housing On-Campus Resources:
UC San Diego Transitional Housing (Partnership with Marriott):
Enrolled UC San Diego undergraduate and graduate students can book a stay at one of 4 participating Marriott hotels (listed below) in the San Diego area. Students can book a stay at reduced rates for daily/weekly/monthly stays (note: rates depend on the length of stay and are subject to availability). Students staying for 90 consecutive days, or longer will receive the best rate.

The Residence Inn hotels feature large suites equipped with full kitchens, and include breakfast and WiFi in the price.

The Courtyard features rooms with a mini fridge and microwave.

Hotels are also conveniently located less than 6 miles away from campus and have MTS routes that are accessible at the La Jolla and Sorrento Valley locations.

Explore the participating Marriott locations by following the link below, and for those seeking a roommate or roommates, check out the UCSD Marriott Program Roommates Facebook Page.
If you anticipate needing financial assistance to support your transitional housing stay at the Marriott Hotel (Residence Inn La Jolla, Residence Inn Sorrento Mesa/Sorrento Valley, Courtyard Sorrento Valley, or Residence Inn Del Mar), please fill out this Subsidized Transitional Housing Assistance Form.
Questions?
San Diego Local Property Owners working with UC San Diego
:
Transit-Efficient Housing in San Diego:
When exploring housing options, consider your commute. Selecting housing in a neighborhood with great transit service can make your commute faster, more reliable, more productive and lower impact all while helping you save money.
These routes offer some of the fastest and most reliable one-seat rides to the La Jolla campus. Looking for housing within a brief 5-6 block walk or 1-mile bike ride from these transit centers could make your commute significantly more efficient.
UC San Diego's Transportation Services and UC San Diego's Case Management Services have compiled the below information on San Diego neighborhood's near transit service lines.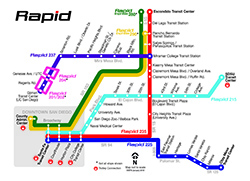 Consider neighborhoods along the Rapid 237 express bus line. (map)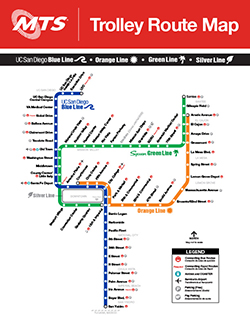 Consider neighborhoods along the UC San Diego Blue Line trolley, arriving on campus November 21, 2021. (map)
Properties along the Trolley Blue Line:
Tecolote Stop
Clairemont Stop
Balboa Stop
Nobel Stop
Executive Drive Stop
UTC Transit Center Station Stop
City College Stop
Park & Market Stop
Palomar St Stop
Helpful Off-Campus Housing Search Links:
The 

UCSD Unofficial Facebook Housing Group 

is a community resource students unofficially use to find roommates and housing.

The 

AS Local Housing Guide 

is an off-campus housing guide compiled by Associated Student (AS) AVP of Food and Housing Resources

The International Students & Programs Office (ISPO) offers information on 

Housing Resources for International Students

, but this is also often helpful for domestic students who are navigating San Diego region housing for the first time

Search engine ideas

: "

San Diego Property Managers" or  "San Diego Property Management" 

to tap in more to other local property owners that are not corporate; complexes that are duplexes, 4 units, 8 units, 16 units etc.

Search engine idea: "Corporate Housing San Diego"

for transitional housing options often geared towards traveling professionals; apartments are short term and often furnished! 
Click here
for a Summary of Affordable Housing in the City of San Diego as presented by the San Diego Housing Commission.
The County of San Diego's Security Deposit Assistance Program (SDAP) helps eligible County residents with a security deposit payment.
The program provides one-time payment assistance for renters unable to pay for a security deposit through a security deposit voucher program. The security deposit cannot exceed two months rent for a maximum award amount of $7,000. Vouchers are limited.
Applications will be accepted until funds are no longer available. The application period will be open, starting September 3, 2021 for two weeks and initial applications for review will be selected via a random lottery. After that applications will be selected based on date and time of application.
Click here to apply online and to apply over the phone, or for assistance, please call: (858) 694-4801.
The California (CA) COVID-19 Rent Relief program provides financial assistance for rent and utilities to income-eligible California renters and their landlords who have been impacted by COVID-19. Both renters and landlords can apply for assistance.
Depending on the address of your rental property, you may be eligible for a local program.
Apply Now to determine which program is right for you.
The County of San Diego's Emergency Rental Assistance Program (ERAP) 2021 helps eligible households in qualifying areas who have been financially impacted by the COVID-19 pandemic.
The program provides payment assistance for renters who need help with rent and utilities. Applications will be accepted until funds are no longer available.
Click here to apply online and to apply over the phone, or for assistance, please call: (858) 694-4801.