Triton Food Pantry
The mission of the Triton Food Pantry is to provide a discreet service to UCSD students in need of food. Our goals are to ensure that every student has enough energy to get through the day and that no student should give up a single meal for any reason. We aim to build a network of food resources and awareness about food insecurity so that every UCSD student has nutritious fuel to achieve academic success.
A service of the Associated Students, The Triton Food Pantry is managed by student pantry managers and interns who provide oversight to the daily operations of the food pantry. The operation is also supported by a set of student volunteers who sign up to help support. These managers and interns also develop programming around meal preparation.
Hours of Operation-
*TO SCHEDULE A PICK UP, CLICK HERE*
Pantry will remain open during Summer 2020!
2020 Summer Session 1 Hours:
Who Can Use The Pantry?
Current UC San Diego undergraduate and graduate students can utilize the service.
What's At The Pantry?
The Triton Food Pantry is in partnership with the San Diego Food Bank and Garden of Eden. At the food pantry, a variety of dried goods, canned goods, and fresh produce are available to students. Items are assigned a point value and any registered student is able to pick up 10 points worth of food per week.
Campus Partners
Associated Students
Center for Student Involvement
Chancellor's Office
College Councils
Council of Deans of Student Affairs
Executive Vice Chancellor's Office
Financial Aid Office
Graduate Division, Council of Provosts
Housing Dining Hospitality Services
University Centers
University of California Office of the President
Vice Chancellor of Student Affairs
Student Philanthropy
Follow Us
Follow us on Instagram (@tritonfoodpantry) to checkout locations of our pop-up pantry and other related events and information.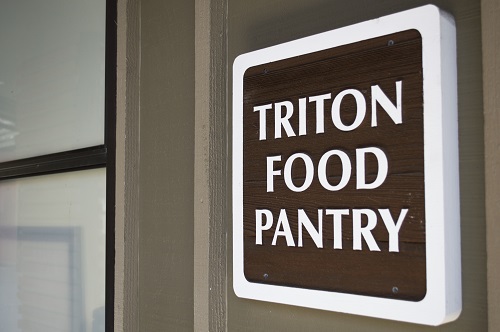 Mobile Pantry
The Mobile Pantry works to distribute pre-bagged items to students off campus in and around San Diego. We have two locations per week and serve around 20 students per location. Click on "Learn More" below for additional details and updates.
Get Involved
If you're a UC San Diego Student interested in volunteering with the Triton Food Pantry please check out our Facebook page for updates and instructions.
Give
Use link below to donate. UCSD Employees can set up recurring gifts through payroll deduction. Campus departments & community partners can support the Pantry through food drives with prepackaged foods. You can come by the pantry during open hours to drop off food items or depts. (main campus) can email us to arrange a pickup.